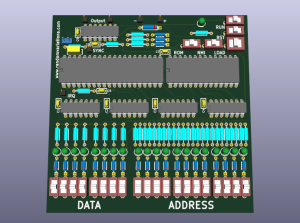 After playing with Kicad, and particularly with pcbnew, I have worked out a PCB design for a "mini" version of the OSI-300 trainer.  Only a few changes have been made to the original design.
The primary adjustment is to swap a 6264 SRAM for the original 128 byte 6810 SRAM.  This provides for 8k of space, and allows for more flexibility in that it will also accept a 62256, or with a trace cut and wire adjustment, a 6116.  This also permits the replacement of the SRAM with an NVRAM.
I also added 5 additional switches to the address bus.  This uses 5 gates on the 7417 open collector buffer chips, which were originally unused.  With 12 address bits, 4k is available for programming.